STQRY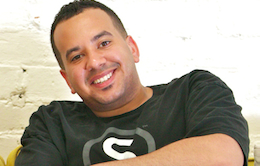 Finalists - Cyber Gold
Tours de Phone
STQRY has developed innovative mobile software that enables organisations to understand how customers move through and engage with indoor spaces and objects. This understanding unlocks the ability to provide contextually relevant content, and drive personalised moments of engagement with customers.
The software has attracted some of the largest and most recognisable brands around the world, including The Getty Museum, The Smithsonian Institute, Emirates Airline, The Broad Museum, Seattle Art Museum, Changi Airport, and Singapore's National Heritage Board.
STQRY has doubled in size since the beginning of 2014, now with 16 staff in New Zealand and 5 in America. This number is expected to double again before the end of 2016, spread across the world.
"The definition of "mobile" is changing", CEO Chris Smith says. "No longer does mobile simply mean hardware that can be carried around - a smartphone or a tablet. Now, mobile is all about individual customer movements and daily interactions with a range of technologies. STQRY leverages this information to provide truly unique experiences."
Learn more: www.stqry.com